West Side Market Food Tour
The gem of Ohio City, the architectural marvel is a favorite for both locals and visitors alike for its fresh produce, meats, dairy and cheese, baked goods, prepared food and much much more

The West Side Market has been serving the citizens of Cleveland for nearly a century. Its classic architecture, dedicated vendors, and rich history have made it the United States' best public market still standing.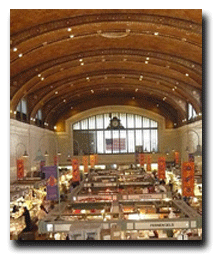 Our Food Tour brings you through the historic West Side Market to meet the long standing vendors, take in the history, and enjoy a variety of sumptuous cuisine as we visit 15 vendors throughout the facility.
Check out West Side Market Food Tour Reviews
The West Side Market Food Tour was created to give you an in-depth look at what makes this market a true American treasure, as we work to promote and preserve its legacy.
The West Side Market Food Tour will feature the following specialties:
Apple Turnovers
Olive Oil tasting and appreciation
Cleveland's Best hummus
Organic fruits and vegetables
Mediterranean specialties
Michael Symon's favorite beef jerky
Tasting and appreciation of handmade almond, cashew, and peanut butter
Handmade desserts
Fresh squeezed juices
Spicy and sweet pickles
Cambodian specialties
The city's best falafel
Artisanal cheese
Dried fruits and vegetables
West Side Market Food Tours are held weekly throughout the year, on Wednesday, and Friday. Saturdays are very busy, but are available as private tours; please info@foodtourcorp.com.
purchase food tour tickets here
Private, Group, Corporate Events and Tours