Cleveland Dine Around
a fully customizable experience which is more formal than a food tour and can accomodate groups of nearly any size

The Cleveland Dine Around is a completely customizable Food Tour which brings together architecture, culture, history and cuisine in Tremont, and Little Italy.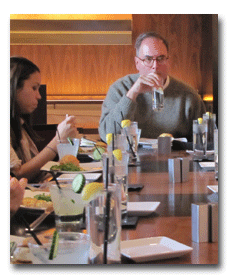 Let our enthusiastic, professional hosts take you throughout the neighborhood of your choice as you enjoy an in-depth perspective of the area. You will enjoy a multiple course progressive meal that will challenge and expand your palette with an array of tastes and textures.
The Cleveland Dine Around gives you a flexibility that is not available on our standard Food Tours. We can alter the style and number of restaurants, length of tour, and the starting time, and ending time of the Food Tour in order to suit the specific desires of any size group.
Your evening will include the following:
A multiple course progressive meal at two or three critically acclaimed local and or family-run restaurants
Fully guided architectural, cultural, historic walking or motorcoach-based tour
Local ingredients utilized in a variety of cooking techniques and styles throughout the evening
Themes, styles, time, duration, transportation, beverages, and much more are customizable
Special pairings of dishes with regional beer or wine selections (additional charges may apply)
Contact us by email at info@foodtourcorp.com or phone at 216.395.01325 for more information on our Cleveland Dine Around. If you are interested in a traditional Progressive Dinner rather than a Dine Around, click here for more information, or let us know by phone. If you want a large group, one restaurant Dine Around, please specify in your query.
purchase food tour tickets here
Private, Group, Corporate Events and Tours