Little Italy Food Tour
The ethnic enclave has been the home of Italian culture and cuisine for over a century, and today brings together the historic and contemporary as one of hottest neighborhoods in Cleveland.

The majority of Italian immigrants came to Ohio in the late 19th and early 20th century. Cleveland's Little Italy brought together these families that shared a common bond as they started a life in a new, exciting country.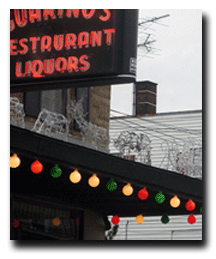 As the years passed and the community immigrated into the rest of the community, one thing in the neighborhood has never changed is the food. The best Italian and Italian American cuisine can still be found in the area, in restaurants all within walking distance of each other.
Check out Little Italy Food Tour Reviews
Our Little Italy Food Tour will explore the Cleveland Italian culture that has existed for generations; its people, its philosophies, and most importantly its food. We will enjoy specialized dishes from a variety of restaurants; some long standing, some new to the area, while we take time to appreciate the contributions of Cleveland's rich Italian culture.
The Little Italy Food Tour is available both for private groups directly through our office, or for individual purchase on our third party ticketing website.
Please contact us at info@foodtourcorp.com or 216-395-0132 for private or group tours and events in Little Italy!
Your Food Tour may include the following:
Cheese fcured meats from a local italian market
Housemade pasta
Brick oven pizza
Authentic Italian-American meatballs
Food Network personality's favorite cassata cake
Our dishes may evolve faster than our website, as we work to give you the best Little Italy Food Tour possible!
purchase food tour tickets here
Private, Group, Corporate Events and Tours