Experience Cleveland's food and culture with Taste Cleveland Food Tours
Cleveland and Northeast Ohio's source for Food Tours, culinary and cultural focused special events, corporate teambuilding, progressive dinners, and destination management.

Welcome to Taste Cleveland Food Tours. We plan, execute and manage tours and events that bring together history, architecture and cuisine in a variety of different venues and historic neighborhoods. Our focus is to provide you with a variety of culinary focused events and activities for both individuals and groups in great restaurants and establishments throughout the city.
Select Virtual Team Building Events, and food tours are now available for small and large groups! check for more info
Experiencing Cleveland
Cleveland, over the past decade is undergoing a culinary awakening. Historic neighborhoods, once nearly forgotten years ago, have now been revitalized, and are becoming attractions for both locals and visitors for their restaurants and nightlife. Throughout the city, there is an increased focus on food and drinks, with movements appreciating local and slow foods, as well as an appreciation for authentic ethnic cuisine, found in enclaves and dispersed throughout Cleveland. The heart of the city, fully rejuvenated, teams with excitement, nightlife, and fantastic dining options. And we want to show you as much as we can!
What is a food tour
Although we offer a variety of events throughout Cleveland, we started it all by creating and running food tours over seven years ago. Back then, a Food Tour had only one meaning, wherin today, it represents a number of culinary based events.
A food tour, or a culinary tour, is an event where a guide teaches a group about the history, architecture, and culture of an area, often taking place within one particular neighborhood, and often on foot (although the events can be done by motorcoach, limousine, or other forms of transportation).
Throughout the event, the group stops to enjoy food and drink at a number of restaurants and establishments for specially created dishes (and on occasion, drinks) at each place.
Groups may enjoy a tapas style plate, a family style group of dishes, or several courses at each restaurant or establishment, depending on the type of food tour. Specified drinks, both alcoholic and non alcoholic, may be included in the event.
tour categories
A culinary tour typically last around three hours, and are further classified into one of the following events:
tasting tours
food tours
dine arounds
hybrid (tasting/food) tours
Food tours offer similar sized dishes at each place with 4-5 stops. Tasting tours offers samples at 7 or more stops, hybrid tours at 5-6 stops. The most similar food tour to a progressive dinner is a Dine Around, as both visit 3 restaurants. A Dine Around typically offers up to 3 (or on occasion, more) small courses at each stop, with most groups choosing 1-2.
Food Tour vs a progressive dinner
Progressive dinners (or progressive meals) helped to create the current classes of culinary tours we know today. The progressive dinner normally has guests visit three restaurants; an appetizer at one, main course at another, and dessert at a final restaurant. A Dine Around is the closest cousin of the progressive dinner, visiting the same number of restaurants, and offering the group the ability to customize restaurant choices.
In the media
Since being founded in 2011, our Food tours and events have been featured in numerous magazine and newspapers, including The Cleveland Plain Dealer, The Wall Street Journal, USA Today, the Washington Post, the Boston Globe, The Indianapolis Star, Cleveland Magazine, The Cleveland Scene, The Baltimore Sun, and Bon Appetite Magazine.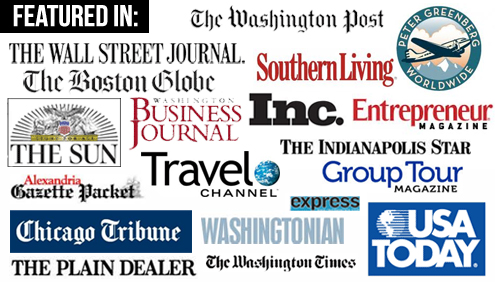 Taste Cleveland Food Tours is a part of Food Tour Corporation a national (and soon to be international) co-op of sister companies, partners, certified affiliations. We are certified by the ASA, a multi level certification program focused on the ensuring the long term success on the industry.
purchase food tour tickets here
Private, Group, Corporate Events and Tours